I graduated again! This was one of the reasons being away last week. Heaps of thanks to all the congrats over the phone. Im blessed to have such peoples present in my life, very thoughtful indeed! I managed to sent MMS to couple of sweethearts right after the ceremony itself.
I almost wear black pencil skirt with black leggings. Smart me not to opt for that choices,otherwise free flash to all. ;)
Ceremony was held at SEGi University College, Malaysia ( Kota Damansara)
25th Oct 2008 marks the day, which followed by photography sessiong then dinner.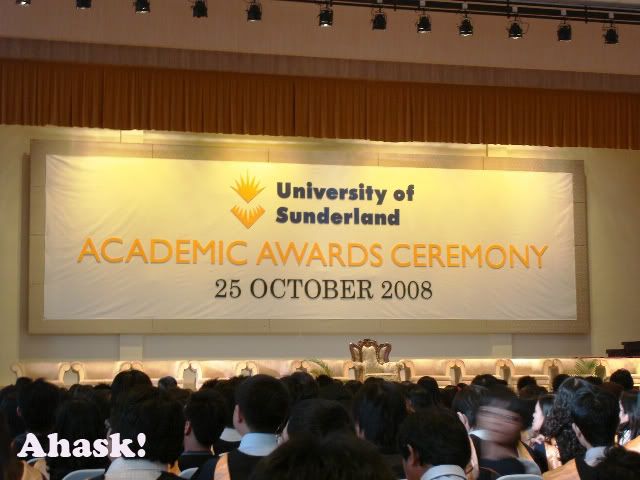 It was mainly for UOS graduates of majoring in BA Business Management & Engineering schools.
Jasz! We attended the same course, sat in the same class, attended convo together and she was my neighbour during the stay in Royale Bintang. ;) i wonder what happen to the plan of partying in Ice Club??
Babe, i wish you all the best in your future undertaking but i won't wish you farewell. Im blessed to have shared every celebration with you which i believe distance wouldn't come in destructing of what we've build in this friendship.Lots of love! Im sure gonna miss you..probaly we should opt for aust. master degree together??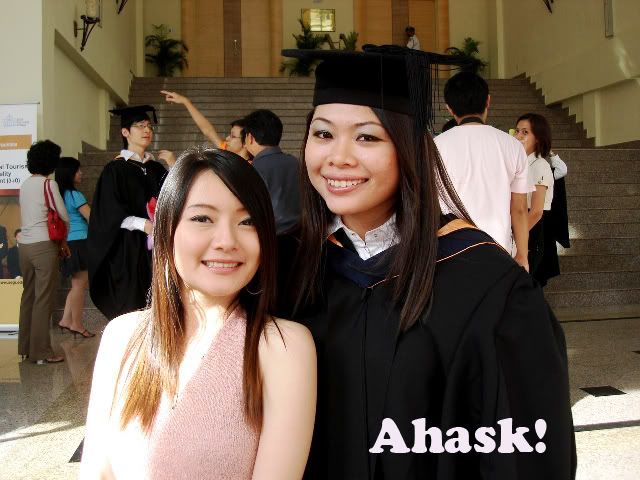 Kunga, whom was surpose to attend this ceremony last minute back out. Thanks to you & Nicholas for the ride to SEGi. How 'bout another course together??
*bliss bliss* Wish that person i had in mind was able to see this smile i had that day...
As i stand among these chancellors,it made me wonder why the hood can't be purple colour?
Sue Reece, Director of Sunderland Recruitment & Business Partnerships UOS.
p/s: My name appeared in The Star papers dated 25th Oct 2008, page N62.
p/s/s: It was very sweet and thoughtful to have brought me a gift from far2 away despite the delays that day you're to arrive. love love.
p/s/s/s: Anna! your name was in the papers also ;)
p/s/s/s/s: Yes, hair is now darker shade since oct.