Those who enjoy long drive before/after dinner & ample parking,can book your spot at
Borneo Convention Centre Kuching [BCCK]
. If you have not booked any seats yet, you can still opt for BCCK as they have bigger venue & variety enough to feast!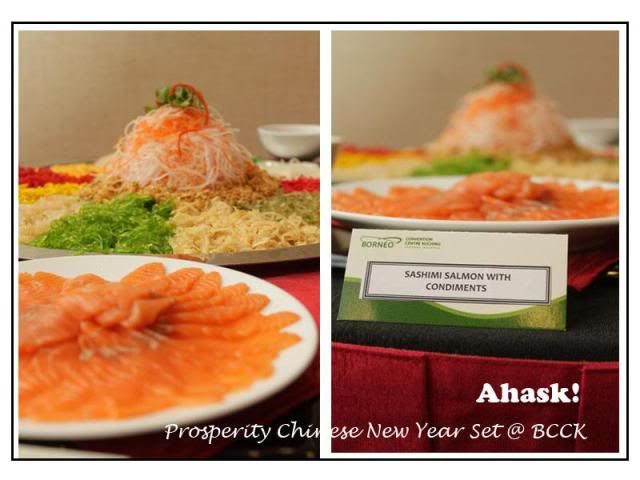 Yee Sang filled with Sashimi Salmon & Condiments
Generous amount of salmon,don't you think so?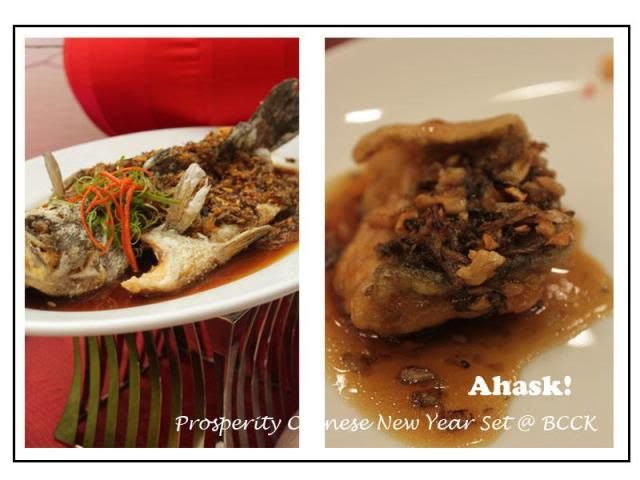 Braised Sea Bass with Preserved 'Tong Chai' [aka preserved vege] and garlic. Very authentic which I really enjoy.It reminded me of mom's cooking :)
Steamed Village Chicken with Red Dates & Chestnut. Chicken meat was really tender,sweet & juicy! If you don't have the time to wait at home & constant checking on the fire.This is one place that served steamed chicken, a feast your family could enjoy!
Stir fried Sea Prawn with Oriental sauce.Look at the size of the prawn!
The Prosperity Chinese New Year Set starts from 9th January 2012 till 6th February 2012 for lunch and dinner, with the price from RM788++ per table to RM988++ per table.

Book now by calling +60 82-392 888.