Sunday, May 23, 2010
Posted by

Eve!
at 9:50 PM
No comments:

Posted by

Eve!
at 6:50 PM
No comments:

Wednesday, May 12, 2010
A new lobby lounge of
the Riverside Majestic Hotel called The Club.
Propped right next to the main entrance of the Riverside Shopping Complex, [ which used to be a shoe store] facing the scenic Kuching Waterfront, The Club's main attractions actually lies within its enclosing glass walls.


Comfortable sofas of lovely seating bays, perfect for privacy or just a casual get together with friends and business associates.
The staff is ready to served you with a smile :)
Apart from snacks, The Club also serves a wide selection of cakes and pastries, including pies, pastries, cookies and even chocolate pralines.
Beverages comes in a comprehensive menu that starts from full range red and white wines, house pouring brands, hot drinks to health drinks.
The choice of food is also in abundance.Not to mention, live bands available too!
Don't worry bout wireless.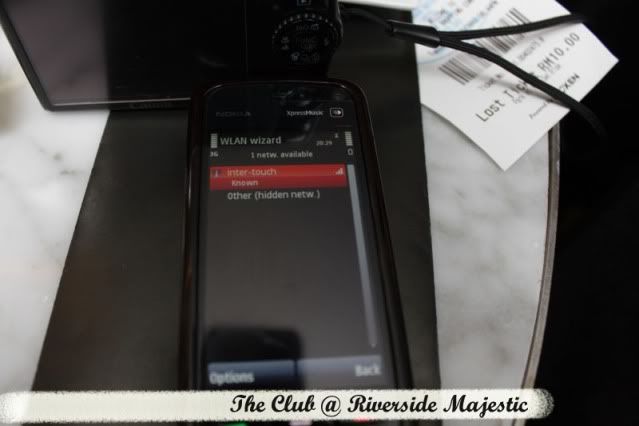 The Club has its free wifi ready to go.
Don't worry about space.Its spacious enough for you to play & roll around.
In conjunction with its opening, The Club Lobby Lounge is having its Happy Hour Deal from 12pm till 9pm daily. During this period, guests are entitled to the
Buy 1 Free 1 offer
for all house pouring brands, inclusive of beer, house wine and cocktails. While you are at the lounge, do not miss the chance to sign up for the
FREE Privilege Card
that would entitle you to a
10% discount off the total food & beverage bill at the lounge.
The same card also carries identical privileges when used at Riverside Majestic's sister hotel Grand Margherita's Rajang Lobby Lounge.
Honey! This is going to be our next hit place.See you all there for a drink or two!
Riverside Majestic Hotel,
Jalan Tunku Abdul Rahman,
P.O Box 2928, 93756 Kuching,
Sarawak,Malaysia
Tel: 082 247 777 Fax: 082 425 858
Email: Contact@rmh.my

Posted by

Eve!
at 4:45 PM
5 comments:

Monday, May 03, 2010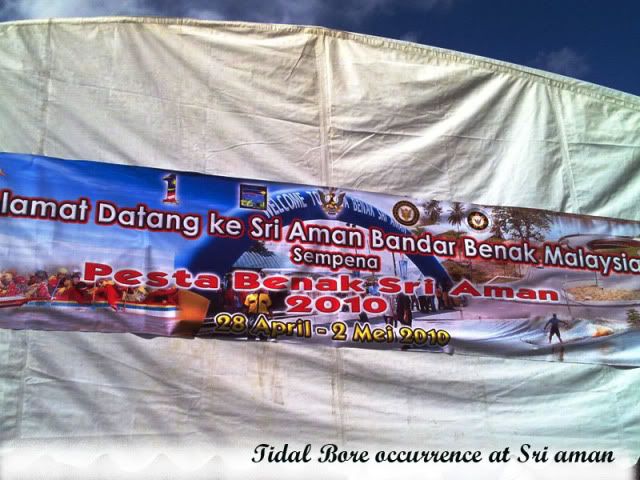 May 28th [correction, April 28th], went to watched the Tidal bore in Sri Aman.
I was there witnessing it!There were plenty locals flocking the
sense
scene waiting for the actual time of the tidal bore to come.
The tidal bore could be seen from April 27th - 29th.
Pretty amazed that they could actually predict the time accurately.
What's tidal bore? A tidal bore of the incoming tide forms a wave (or waves) of water that travel up a river or narrow bay against the direction of the current.
Better view of the incoming waves from top view in the air. The clouds were pretty that evening, like cotton balls :)
Posted by

Eve!
at 6:59 PM
6 comments: