Thalgo International Organic Beauty Seminar was held at Four Points on April 10th, 2010.

It wasn't my 1st time to know of the brand Thalgo. I believe they have been around for a while now. Nevertheless, i am to share with you their latest launch range.

Terre & Mer by Thalgo
is an ECO-CITIZEN and ECO-DESIGNED range. The formulas are more than 99% natural, are certified Organic by ECOCERT and comply with the COSMEBIO (World-renowned with a presence in 40 countries worldwide) charter
Those who couldn't tell the different between organic & natural.Here's how you differ them both.
Organic

is :
-Untouched, Label
-Free from pesticides artificial preservatives, free from fragrances & colorant,
-No mineral oil or animal testing
While

natural

is:
- Raw, derived from nature,
-Possible contain chemicals
Terre
&
Mer
by
Thalgo
, draws all of its authenticity from the heart of the Mediterranean; essential oils and preserved algae join forces for a return to the skin's essential needs.
Terre & Mer by Thalgo is aimed at all women who organize beauty in their everyday life and are looking for professional organic skin care by turning organic cosmetic out of concern for the environment.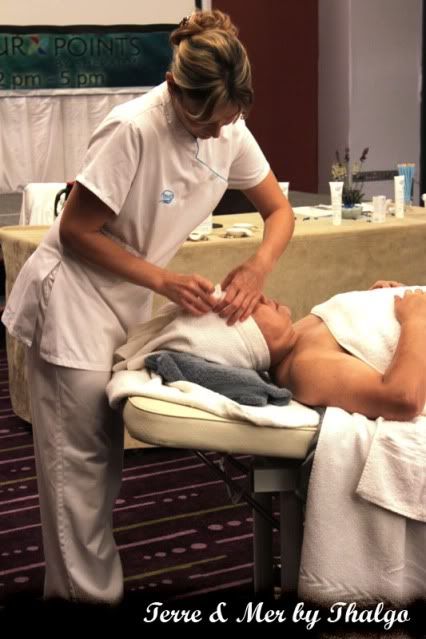 At the same time, we were also given the tips and techniques on how to make the products absorb better if we are to use the products at home. Very insightful.


Thalgo also cater for mens.

So, why Terre & Mer by Thalgo?
Click here for Q & A
Let's re-discover the power of natural and organic skin care and stay beautiful the natural and organic way while doing our bit to save the environment. Now, that's beauty with a mission! THALGO ORGANIC RANGE is available at all authorized Thalgo outlets.


Kindly contact
Thalgo Kuching Exclusive Outlet located at:-
Allunique (EM) Sdn Bhd,
Ground Floor & 1st Floor, Lot 3168, Batu 21/2, Block 10, KCLD Batu 21/2,
Jalan Rock, 93250 Kuching, Sarawak.
Tel: 082 259 339
or
Beauty Esteem Sdn Bhd,
194A & 194B, Lot 464 & 465, Ground Floor. Al -Idrus Commercial Centre,
Jalan Satok 93400 Kuching, Sarawak.
Tel: 082 256 262