Segi College Kuching Campus had their prom night forthnight before at Hornbill Hall-The Sarawak Club, Kuching.
Upon entering the Sarawak Club on the 19th Oct 2008,you could only feel intimidated as everyone was dressed in their best! Each tryin to stand out from the crowd while matching their dates appropriately at the same time. Some unexpected ones actually turned up surprisingly gorgeus and smart looking. Those girls in black and red (corner right) sure can cha cha!
Which not leaves us out to dress and dolled up along with the Glamorous theme set that evening. My date that evening-Anna, celebrating the end of our scholastic experiences. I'll share the details on our dresses, make ups and hair dos etc in the next post (after our photog. Allen gets back.Hopefully anytime soon,yea?)
Ivy Chew, one among the 5 ladies whom got nominated for Prom Queen. Ivy's make up by Dior (RM 40), Hair dos (RM 13) Compared to mine, i likes hers better as colours were equally spread and crease was created to enhance the eye shape itself. Illuminator is being applied to create the ilussion of sharper nose. ;)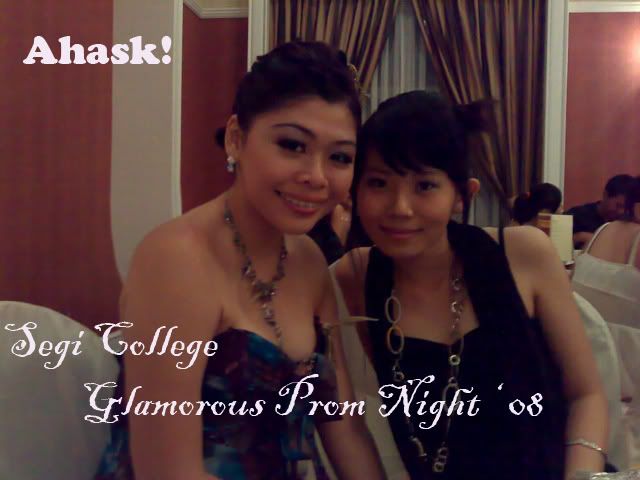 Jenny Ting, whom remembered me from last year prom and also a comittee back then. She caught me by suprise at Maison Monica when she sat next to me during the hair do and later when make up session then approach and ask if i was from last year proms. You've got good memory i must say. *claps* Jenny's make up & hair do by Maison Monica (RM 35).
Im saving the rest for the next post as its gonna over loaded with pictures.
p/s: Drop me a line if you've seen me that night,aight?